The new Chelsea manager believed he would never work with Hazard who he expected to join Real Madrid
Maurizio Sarri is convinced Eden Hazard will remain at Chelsea and has tipped the Belgium international to match the achievement of Lionel Messi and Cristiano Ronaldo and become recognised as the best player in the world.
Sarri, the recently appointed Chelsea head coach, admits he was concerned he might not get the chance to work with the Belgium international when the player indicated during the World Cup he was open to a move away. But having since spoken to Hazard, the Italian is in no doubt the 27-year-old, a long-standing target for Real Madrid, will remain at Stamford Bridge beyond the end of this month when the transfer window will close around Europe.
If, as Sarri insists, Hazard stays put, the Italian will attempt to get even more from a player who reinforced his reputation in Russia this summer. Antonio Conte, Sarri's predecessor at Chelsea, believed Hazard needed to add more goals to his game if he was to make the step up and be bracketed with Ronaldo and Messi as the world's best players. The Italian agrees there is room for development but insists Hazard's progress now rests with the player himself.
"It depends on his position on the pitch," said the Chelsea coach. "In the last five years, Cristiano has played like a striker. Messi like a striker, Eden sometimes like a winger. Eden can improve. We are talking about one of the most important players in Europe now but, in my opinion, he can improve more. He can be the first. It depends on him. The best for technical skill, the best for scoring, but I think it depends only on him. On his mind."
A fit and in-form Hazard will be a huge asset to Sarri as he attempts to make his mark at his new club. The coach claimed last week he expected his new side to make a slow start to the campaign but an opening game victory at Huddersfield suggested his squad is adapting quickly to Sarri's ideas. The visit of Arsenal on Saturday evening will present a sterner test but Hazard is likely to start having been introduced off the bench last weekend as he returns to action following a post-World Cup break.
Chelsea are keen to tie Hazard down to a new contract with his current deal due to expire in two years, although the player has yet to sign. But after facing a worrying three weeks before sitting down with Hazard, Sarri is confident of the player's future, not least because Chelsea would be unable to recruit a replacement until January even if the Belgian did want to go.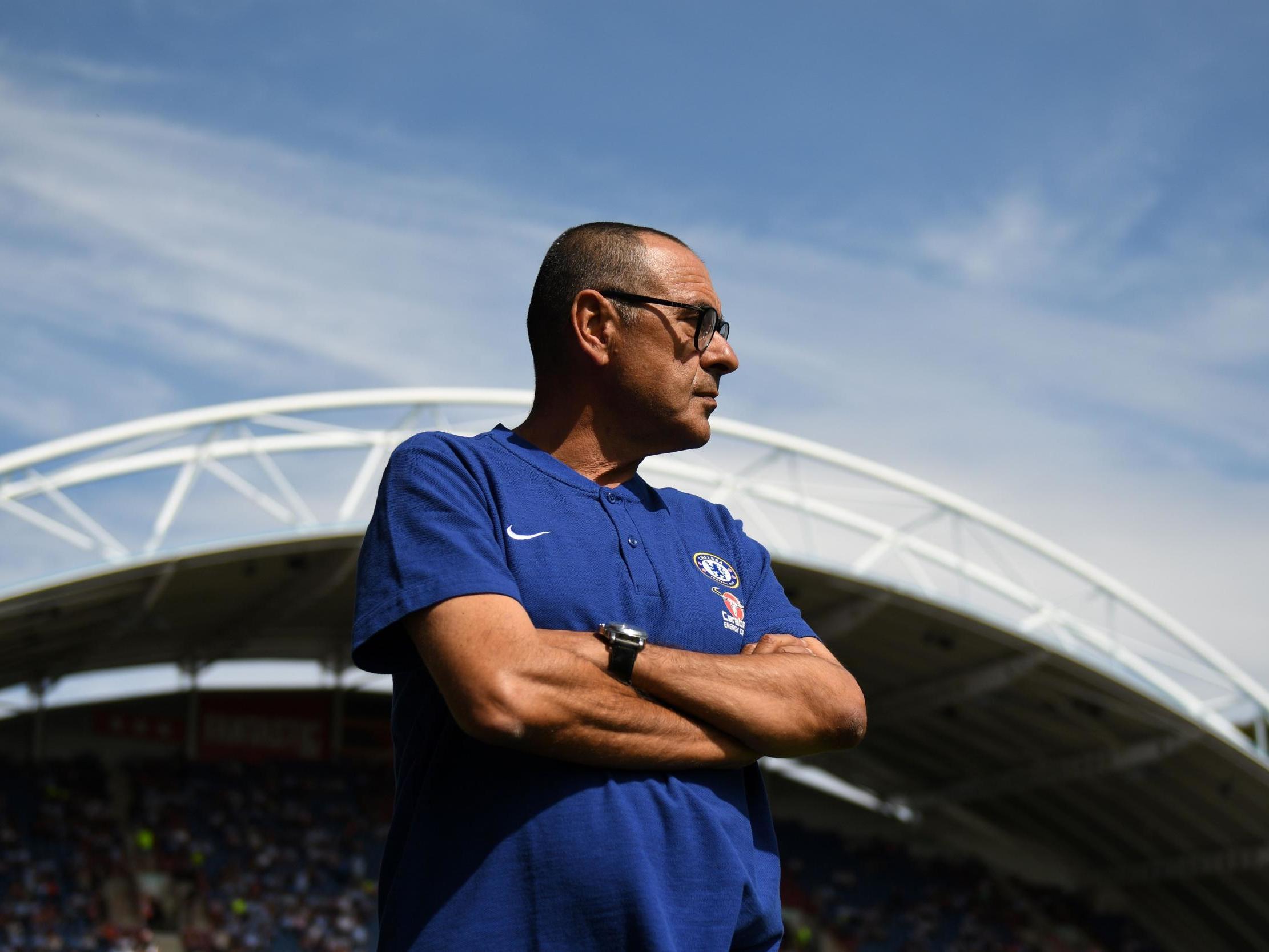 "Of course, I was concerned about this problem," said Sarri. "The first time I have spoken to him, I was sure that he would stay. So I was concerned for 20 days, no more. I have spoken to him very often in the last 10 days, but he has never said to me anything about this. So I am sure that Eden will be with us for this season."

And he added: "Chelsea are one of the most important clubs in Europe. I think one of the most important clubs in Europe cannot sell an important player without the possibility of buying a player on the same level."
Sari has won approval from his squad for easing some of the restrictions imposed by Conte, in particular on diet and the requirement to spend pre-match nights in a hotel with the current coach insisting he is ready to trust the players' professional instincts.
"Because I think my players are professional," he said, when asked about the decision to allow ketchup back onto the dining tables at the club's training ground. "They must be professional not by rules, but by a good mentality."
Please subscribe to our YouTube Channel and Follow Afrikkupdate on Instagram here, for all of the best images, videos, and stories from around the world.